What's the quickest and most convenient option to get prepared for your career as an EFL/ESL teacher?
No doubt:
Online TEFL courses are an excellent option for people who are motivated and excited about getting TEFL certified from the comfort of their homes.
Join our mailing list to receive a free ESL teaching resource every week.
The right course will help you feel qualified and supported as you prepare to move abroad or give online lessons, while the wrong course will force you to spend money on a useless certification that hinders you from landing a job.
How can you make the best decision?
In this article, we've put together a list of the best TEFL online courses, from extra affordable to top-notch – followed by a general buying guide which will walk you through the process of researching and selecting the online course that best suits you.
What is TEFL Certification?
If you are new to the world of teaching English, here's some starter info:
TEFL stands for Teaching English as a Foreign Language.
TEFL is one of the world's fastest-growing educational fields right now, and as such untold numbers of opportunities are cropping up for certified professionals to teach English online and around the world.
Your TEFL Certification gives you a license to teach English as a foreign/second language upon completion of a teaching course.
Virtually anyone who is a fluent English speaker can get TEFL certified, and there are many platforms that offer TEFL certification both online and in person.
Your TEFL course will teach you a number of tools that will help you teach English as a foreign language, such as how students acquire foreign languages and what teaching methods are effective. In your course, you will also learn how to lesson plan and structure class.
Additionally, you'll spend time preparing and presenting a live demo lesson, and you'll get to observe demo lessons to get ideas about how to structure your class.
Top List: The Best TEFL Online Courses
Online TEFL courses are a dime a dozen. Even if you narrow them down to just the recognized and accredited ones with benefits, there are still plenty out there.
This is good news for you as a consumer who wants choices, and bad news for you as a human with a limited amount of time.
Quick tip: Must-Haves of an Online TEFL Course
120-hours of training
Accreditation
Personal tutor support
(Lifetime) job guidance
Hard copy certificate
To save you hours of research, we've compiled a list of the best TEFL courses online.
These programs vary in terms of TEFL course cost, time commitment, and benefits. No matter your situation, you should be able to find a course that suits you and your individual needs.
The list below should serve as a starting point and help you avoid courses that are fake or illegitimate.
Once you explore the options below, plan to dig deeper by reading reviews, talking with advisors and tutors, and delving into each of the benefits.
Our Recommendations
TEFL from International House Berkeley
One of the industry-leading training providers with experienced consultants
Take this internationally recognized online TEFL training presented by The Robertson Center for Intercultural Leadership (CIL) at International House Berkeley. Through their partnering recruiting agency Teachaway, they'll offer excellent job opportunities for graduates.
Time commitment: 120 hours (6-12 weeks, with 2-3 hours of study a day)
Practicum: None
Requirements: None
Cost: $1,095
Accreditation/Approval: UC Berkeley
Benefits: 100% online and self-paced course, students have one year to complete the course; TEFL certification from the Centre for Intercultural Leadership at International House and the #1 public university in the US, specialized curriculum prepares you for living and teaching abroad; free lifetime job search assistance from Teach Away, the international teacher recruitment agency.
Rating on Go Overseas: n/a
Learn more about the TEFL course from International House Berkeley here
Let's TEFL
A comprehensive package for an unrivaled price
The Let's TEFL course includes everything you will ever want from an online course. In our opinion, it's also the best TEFL course for teaching online, as it provides a full module of online teaching training.
Time commitment: 120 hours
Practicum: None
Requirements: English fluency, 18+ years of age
Cost: $169 (was before: $499)
Accreditation: World TEFL Accrediting Commission (WTEFLAC)
Benefits: Lifetime job placement service, live chat with tutors each with 3+ years of teaching experience, free ESL job training short-course, free worldwide certificate shipping, and certificate notarization with job placement service.
Rating on Go Overseas: 94%
Other Online TEFL Courses
Time commitment: various course options from 60 to 470 hours
Practicum: None
Requirements: None
Cost: courses and packages vary from $199 to $799 (10% off discount with this link)
Accreditation: Online TESOL and TEFL Standards Agency
Benefits: Job support comes with all courses and packages (although lifetime job support only comes with the "master" packages); option to combine various packages and add tutor support if desired; specialized course options for methods like Business English and Teaching English to Young Learners
Rating on Go Overseas: 89%
ITA International TEFL Academy
ITA is one of the industry-leading TEFL course providers and offers university-level online training, including an on-site practicum. Taking a course with ITA, you will become a member of their international alumni network.
Time commitment: 170 hours
Practicum: 20 hours
Requirements: A native English speaker from the U.S. or Canada, and above the age of 21.
Cost: $1,395, although ITA frequently offers discounts
Accreditation: Level 5 accreditation by Training Qualifications UK
Benefits: Access to lifetime guidance from ITA advisors before and after enrolling in the course;  in-depth country guides on 80 countries; access to hundreds of articles, FAQs, and testimonials from current teachers and alumni; extensive ITA network across the globe made up of over 15,000 alumni
Rating on Go Overseas: 91%
Time commitment: 10 weeks minimum
Practicum: 6-8 hours
Requirements: must be above the age of 18
Cost: about $2,500 – dependent on the training center where you choose to do your practicum hours
Accreditation/Approval: Cambridge University
Benefits: considered the "gold standard" of all TEFL courses online; widely known and highly respected program for teaching English; personalized support (trainees have a designated trainer who works with them throughout the course)
Rating on Go Overseas: 94%
Time commitment: 120 hours
Practicum: None
Requirements: English fluency, 18+ years of age
Cost: $349
Accreditation: Accreditat (UK Registered List of Learning Providers)
Benefits: Lifetime job assistance, one-on-one certified teacher trainers available for support and feedback with 5+ years of teacher training experience, free interview and resume guide, free worldwide certificate shipping and certificate notarization (upon request), free trial of a full course module, graduates finish the course with a full portfolio of graded lesson plans to show on interviews, course has 40+ hours of video observation, Supported by the Thai Ministry of Education to train foreign English teachers
Rating on Go Overseas: 99%
Time commitment: various course options from 100 to 150 hours
Practicum: None
Requirements: None
Cost: between $995 to $1,495
Accreditation/Approval: University of Toronto
Benefits: Courses are 100% online and self-paced, students have one year to complete the course; TEFL certificate from the education faculty at a top-20 university; ability to customize your course with two elective specializations in subjects such as Teaching Business English and Teaching Mandarin Speakers; free lifetime job search assistance from Teach Away, the international teacher recruitment agency.
Rating on Go Overseas: 84%
Time commitment: various course options from 40 hours to 120 hours
Practicum: None
Requirements: None
Cost: between $139 and $299
Accreditation: Online TESOL and TEFL Standards Agency
Benefits: Tutor and tech support, as well as job placement assistance for life; charitable donation made for each new course enrollee; online resources for teaching jobs online and in Asia
Rating on Go Overseas: 98%
Time commitment: various course options from 60 to 320 hours
Practicum: 20 hours (in combined courses)
Requirements: None
Costs: courses and packages vary from €149 to €770
Accreditation: Ofqual (British government regulated) and The Open & Distance Learning Quality Council
Benefits: Internationally recognized professional TEFL certificate; choose between various packages, online and combined courses including classroom training; specialized, in-depth courses available to train your skills at getting higher-paid jobs; dedicated expert tutor support; supported TEFL jobs and paid internships for beginners
Rating on Go Overseas: 86%
In-depth Buying Guide: What to Look for in an Online TEFL Course
I've already mentioned it: TEFL courses are a dime a dozen. However, quality ones are much harder to come by.
Plenty of people have paid for spam courses that either did not exist or did not deliver on stated promises, which is why it's crucial to do your research and ensure that your TEFL certification online is legitimate.
The course must check off a number of boxes in order to simplify your learning process and enable you to teach internationally.
120-hours Training
First and foremost, your course must have 120 (or more) hours of study. Most employers will only accept certifications that have at least 100 hours of content.
After all, teaching students a foreign language is a complicated process. Although English may come easily to you and other native speakers, it contains a vast network of rules and regulations beneath the surface.
Studying for at least 120 hours shows prospective employers that you devoted time and energy to the process, and that you'll arrive equipped with the proper tools to teach their students.
Courses with less than 120 hours are not accepted by employers and thus are a complete waste of time and money!
Accreditation
Second, your TEFL certification should be from a reputable provider. Although there is no single governing body that monitors and evaluates TEFL courses, plenty of legitimate organizations and universities fill the gap.
Some of the most common accrediting organizations include Training Qualifications UK ("TQUK") and the Online TESOL and TEFL Standards Agency ("OTTSA").
Accreditors check course materials, learning and examination methods, tutor experience, business registration details, admissions policies, and code of conduct to ensure that course providers meet their standards.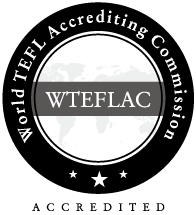 You can also opt for a university course such as those offered by Cambridge University or the University of California, Berkeley.
All the online TEFL courses listed below are accredited by a legit organization.
Keep in mind that accreditation alone does not guarantee quality – be sure to do your research and choose a provider with qualified instructors and great reviews.
Support from Experienced Tutors
To ensure that you have a pleasant experience with your TEFL course and program, look for one that offers support from either experienced tutors or advisors throughout the process.
Lifetime support is ideal since you never know how long you'll teach English. Whether you stay in the field for six months or 12 years – it's best to get certified by a program that will always be there for you.
They're there to help you whenever you have questions with the course materials, and can also provide guidance on wider issues – what it's like to live and teach overseas, how can you find apartments, what to do with visas, additional career guidance and more.
You'll have peace of mind knowing that you can access up-to-date advice and guidelines about teaching in various countries, regardless of when you completed the course.
Job Guidance
Similarly, programs that offer job search assistance are especially useful.
The assistance may be in the form of country guides, online job boards, or partnerships with job recruiting agencies or language schools – all of which will help you start working sooner upon completing your TEFL Online Course.
Digital and Hard Copy Certificates
It's important to have a hard copy of your original stamped and signed TEFL certificate so that it can be easily used for visa and job applications. Turning up to a job with a home-printed copy of your certificate is a big no-no!
TEFL certificates should come with a reference number to verify authenticity, and information about the course and range of modules covered.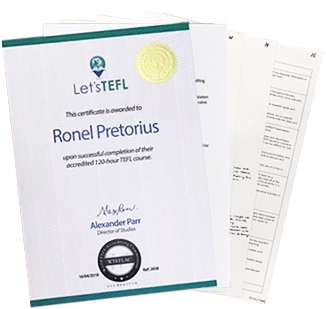 There should also be no additional fees or charges for having your certificate shipped around the world.
After completing the course you usually receive a digital copy of your certificate immediately, and a hard copy will be sent to you via recorded delivery.
Optional: Teaching Practicum
One thing to consider is whether or not you would like a program with a practicum-teaching component. You may feel that in-class experience will prepare you to manage classrooms better and more confidently.
While it is undoubtedly a beneficial component of TEFL training, a practicum is not a requirement at all for obtaining a TEFL certification or when applying for TEFL jobs.
Don't worry if you don't have the time to take one. You can also train your skills on the job, maybe consider doing an internship after certification.
In our list of the best TEFL courses below, we'll highlight whether a course includes a teaching practicum or not.
Read Alumni Reviews
Once you've found programs that are internationally recognized or accredited, and come with specific benefits – you may still be unsure of which to choose.
A great way to dig deeper into a program is through online reviews from past students. Ensure that these reviews are positive and that the students were able to find desirable teaching jobs abroad.
You'll also discover which learning environments you prefer based on descriptions in the reviews.
Whether you're looking for a course that is "engaging and upbeat" or "focused and thorough," the reviews are often the best way to analyze them from the perspective of past students.
Key Takeaways
As you can see, your options for choosing a TEFL course are diverse. 
Regardless of the course you choose, remember that it must be internationally recognized, accredited, and offer benefits to support you as both a student and teacher.
All mentioned TEFL online course providers are reputable companies and excellent options, receive excellent reviews, will support you throughout your job search and offer a bunch of extras. Although, some may be more suitable for you than others. The decision is up to you.
How to choose a TEFL online course
Consider your goals and preferences
Research the online TFEL courses and read alumni reviews
Talk to an advisor of the TEFL course providers you've shortlisted
Make your decision
Enroll in the course
The decision to begin a TEFL online course is an exciting one since it is the first step of many that will help you realize your dream of moving abroad and teaching English.
Enjoy the process, learn as much as you can, and prepare yourself for one of the most rewarding experiences of your life.
FAQ about TEFL Courses
Still questions left? Check our FAQ section on TEFL courses:
Do You Need a TEFL to Teach English Abroad or Online?
While you don't always need a TEFL to teach English abroad or online, the benefits that come with your certification are sizeable.
First off, many countries and employers do require all teachers to be TEFL certified. Even if a TEFL certification isn't required for your situation, many employers will favor teachers who are TEFL certified. Furthermore, the course will give you classroom management and teaching skills that are crucial for success in and out of the classroom.
The TEFL helps you get jobs at good schools with high pay rates and good working conditions, and it's pretty hard to find above-board employment without it.
Read this post about whether taking a TEFL is worth it.
Which Is Better: An Online Course or an In-Person Course?
This is one of the most commonly asked TEFL questions. Both options have their pros and cons.
Here's a brief comparison:
Opt for an in-class (onsite) course when you:
can take one month off for full-time training.
can afford to pay typically $1.500 or more.
prefer learning from a teacher face-to-face.
want to take the course at your teaching destination.
want to network with other students personally.
Opt for an online TEFL course when you:
want to learn self-paced and part-time.
are looking for a rather affordable option.
don't mind learning from videos and communicating online.
want to stay home or don't know where you want to teach yet.
are a self-disciplined and organized person.
What is the Difference Between TEFL, TESL, and TESOL?
If you've already looked into getting an English teaching certification, you'll undoubtedly have come across the three acronyms: TEFL, TESL, and TESOL. While very similar, they each have slight variations in meaning.
TEFL stands for "teaching English as a foreign language," and primarily describes teaching English in countries where the native language is different.
If your plan is to get your certification and move abroad to teach, then you're interested in TEFL.
TESL, or "teaching English as a secondary language," describes teaching English to non-native speakers within an English-speaking country. TESL applies to you if you live in an English-speaking country, and are planning to remain there to teach.
Lastly, TESOL stands for "teaching English to speakers of other languages," which is a broad description that covers both TEFL and TESL.
Knowing the difference between the three acronyms will allow you to see an online course title and immediately know what style of teaching it encompasses.