Course Overview
Accredited TEFL 120-hour online course
Money-back job placement guarantee
Personal support from experienced tutors
Free CV and interview training
Free paper copy certificate and shipping
Near-perfect alumni reviews
Special guidance for non-natives
With the accredited Let's TEFL 120-hour online course you can earn your TEFL certificate in less than 4 weeks – and start teaching online or in a classroom.
This comprehensive training makes TEFL certification affordable for everyone!
Join our mailing list to receive a free ESL teaching resource every week.
Especially in recent time, many people realized that online training is a full-value substitute for an on-site course – at a fraction of the price.
If you are a self-driven and disciplined person and want to take a TEFL course from the comfort of your home and on your schedule, then this course is all you need!
The course now has a full module about teaching ESL online to kids, presented by an experienced online tutor.
Click to learn more about the online teaching training.
It includes free hard copy certificate shipping, lifetime job guidance and a lot of other benefits.
Let's TEFL has a 9.4/10 star-rating on GoOverseas (72 reviews).
They offer outstanding personal support throughout the course and beyond.
It is now available for an unrivaled price of USD 169.
Book the course today and start your ESL teaching career.
One TEFL Course. Endless Opportunities
The ultimate Let's TEFL 120-hour online course was created using over ten years of teaching experience all over the world. 
Let's TEFL provides all the insight you will need to start and succeed in your teaching career and supports you to find a job, for a lifetime!
It prepares you to teach in the classroom as well as giving private online lessons via Skype or online teaching platforms, which is the fastest growing market in the ESL industry currently.
This all comes in one concise package with a "job placement or money back" guarantee.
Honestly!
Learn more about the benefits of this TEFL course:
120-hour Online Course
The comprehensive TEFL course includes everything you need. It will give you a refresh of the essential grammar and content which provides the backbone to most English lessons.
You'll learn about the language skills which students need to master and how to teach them. You will get valuable tipps on how to create useful lesson plans and manage your classroom effectively.
Online Teaching Video Guide
Not every skill and technique easily translates from a physical classroom to an online lesson. To help you start a career as an online ESL tutor, the course includes a special module on teaching online.
An experienced online tutor explains what equipment you will need, how you should set up your "classroom" and how you can give your online students the best value from each online lesson.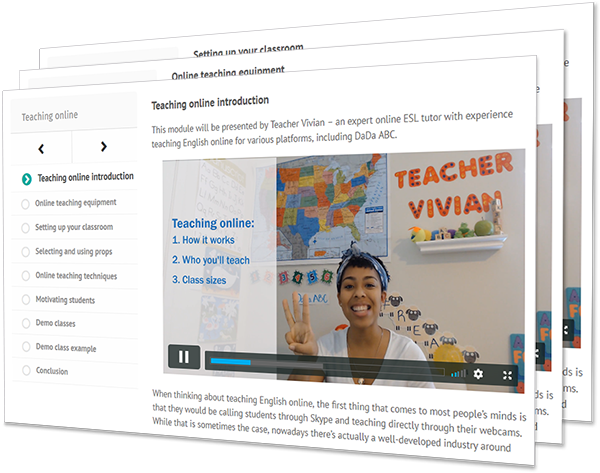 Accredited by WTEFLAC
The Let's TEFL Course has been accredited by The World TEFL Accrediting Commission (WTEFLAC). This means that the course meets the requirements to provide the students with everything they need.
Thus, the Let's TEFL certificate is recognised by employers and immigration offices around the world and opens the door to thousands of teaching jobs for you.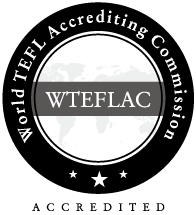 Job Placement Guaranteed
Given that you meet the legal requirements for a work visa, Let's TEFL promise to place you in one of their partnering language centers.
They offer jobs in a couple of locations, including China, Thailand, Taiwan, Japan, and South Korea.
If they don't manage to find a job for you, you will receive a full refund of the course fee but can keep your TEFL certificate nevertheless!
Read more about their outstanding job guidance here.
Highly Recommended
This online course gets a fantastic rating from graduates:
9.4/10 stars on GoOverseas. (71 reviews, in January 2021)
Ashley, a graduate says: "Studying online was really simple and convenient. I completed the course in about 6 weeks by studying after work each evening."
Any questions left?!
Experienced Online Tutors
16 hours a day, you can contact a tutor via email and online chat, to discuss questions and get personal assistance.
Each tutor has years of own experiences teaching English abroad, so you can be sure to get the best advice possible.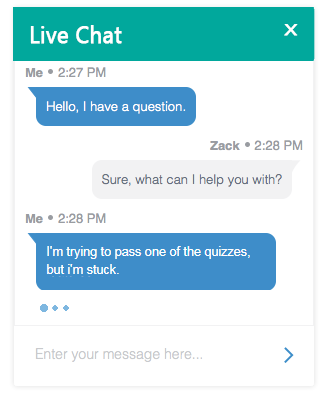 CV & Interview Training
Every student gets access to free employment training. In this add-on course, you'll receive extra guidance on how to create a polished CV for teaching positions, how to pass job interviews and give demo classes successfully.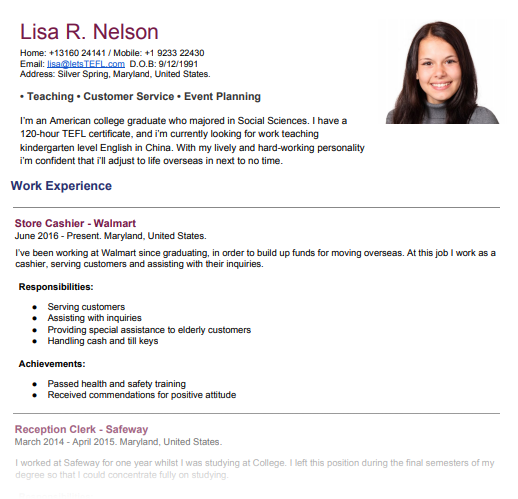 Special Support for Non-Natives
So-called non-native English speakers often face special challenges when it comes to finding teaching jobs.
To improve your career chances, we provide extra guidance and help you to find your first teaching position abroad.
Paper Copy Certificate and Free Shipping
Upon completion of the course exam, we provide you with a hard copy certificate and ship it to your home free of charge, no matter where you live.
The certificate document is signed and stamped. You can bring it to job interviews or turn it in when applying for a work visa.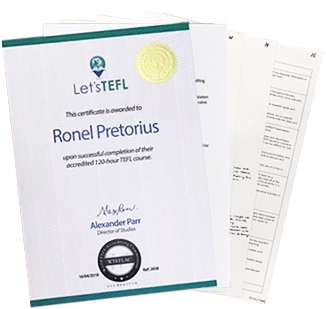 Alumni Reviews
It's always good to check alumni reviews before purchasing anything, and the Let's TEFL 120-hour online course has plenty of positive reviews from graduates on Go Overseas and Go Abroad:
David Lawson (UK): "Convenient, quick, and excellent support!"
I spent a while looking at different online courses and chose to enroll with Let's TEFL as every time I had a question they replied almost instantly.
Even if their tutors were offline when I left a message asking for a breakdown of the course modules I got an email back within a couple of hours.
This support was really handy throughout the rest of the course and even up to today they've been helping me to get my resume together in preparation for applying for their job placement in Sichuan, China.
I was a little apprehensive about standing facing a whole class of students as it seems a bit daunting, but after learning how to really prepare for a lesson, and how to get the students to do the work it's been great and I've been practicing with some family and friends without a problem.
Being able to talk with experienced tutors who have actually been and taught in Asia has also helped to settle my nerves a lot, and now I'm really looking forward to starting.
---
Val Sanchez (AUS): "Thank you for my certificate and for helping me find a job so fast!"
Completing all of the lessons and quizzes took about 3 weeks. All I did was to study the materials and make notes just like reading through the textbooks during school and uni.
Then I waited for the weekend before attempting the final exam and assignment. I passed the exam first time, but for the assignment where you must create a lesson plan, I needed two attempts.
The first time I completely missed the point of the lesson plan, but Justin gave me some really helpful feedback and set me straight.
I passed the second attempt with 93/100 and received a copy of the certificate and my assignment feedback by email the same day. The certificate hard copy took about 7 days to arrive, and it also came with my marked assignment.
While I was waiting for the certificate to arrive I also completed the extra course they have for getting ready for interviews and class demos.
When I finished that, Justin from Let's TEFL helped to arrange an interview for me with two schools in China, and this week I have just signed a contract with one of them.
Now they are helping me to get my visa prepared before I fly to China in August.
Up to now, the whole process has been surprisingly smooth and stress-free. I'm very happy to give my full endorsement to Let's TEFL and would like to thank Justin particularly for the support he's given.